SOLACE officially launched in April 2023 and, for the next 3 years, its goal is to understand how we can implement cost-effective lung cancer screening programmes and ensure that at-risk groups have access to high-quality screening.
Project organisers are also hoping to raise the profile of the project's aims within the healthcare sector and the public.
The project gained a lot of visibility in September, thanks to its presentation and promotion in two big events; the European Respiratory Society (ERS) International Congress that took place in Milan and the World Conference on Lung Cancer (WCLC), in Singapore. The events gathered experts from the academic, healthcare and industry sectors, as well as patients.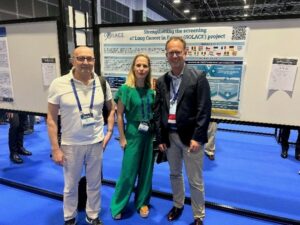 On 10 September, Prof. MD Hans-Ulrich Kauczor presented the project in Singapore during the "Screening and Early Detection – Implementation" session. He talked about the project's vision, the methodology, as well as the expected results and outcomes.
"The WCLC was a great international meeting to present the details of our SOLACE project. SOLACE is clearly addressing the gaps and bottlenecks encountered in many countries ar they start implementation projects for lung cancer screening using low-dose CT. So, our toolbox and results are eagerly awaited". – Prof. MD Hans-Ulrich Kauczor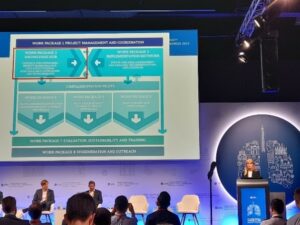 On 12 September, in Milan, Prof. Marie-Pierre Revel presented SOLACE during the session "Lung cancer screening: turning up the heat and moving onwards". The presentation included an overview of the aims, the work packages, the current state of implementation and pilot programmes.
The SOLACE consortium aims to raise the visibility of the project in the future, not only by securing a place in international and European platforms but also by scheduled dissemination and communication activities linked to the press and social media.