The first International Respiratory Coalition Summit took place on 28-29 June in a hybrid format. 60 participants were present on-site in Paris, France, and over 340 attendees followed the live stream from around the world.
The International Respiratory Coalition (IRC) was launched in 2021. It was founded by the European Respiratory Society (ERS), European Lung Foundation and the Global Allergy and Airways Patient Platform (GAAPP), as well as industry partners. The aim of the IRC is to promote lung health and improve respiratory care by supporting countries in implementing national respiratory plans and strategies.
The IRC is ultimately trying to achieve better treatment and outcomes for patients with chronic respiratory conditions. Patient involvement in activities of the Coalition and in the Summit is essential. Bringing together all stakeholders interested in respiratory health is the key to the success of the coalition.
Patients and patient representatives were involved in every session. Some gave presentations, providing their perspective on the most important issues in the respiratory field. Past ELF Chair Isabel Saraiva, who is living with chronic obstructive pulmonary disease (COPD), delivered a moving speech calling on all stakeholders to use this window of opportunity that the COVID-19 pandemic has created to work together to improve respiratory care.
"The first thing we do in life is breathe and the last thing we do is breathe, meaning that it is the most important thing in life."
"If the pandemic gave us something good, it is this capacity of cooperation and collaboration, and working together."
All speakers echoed the idea of taking advantage of this time when respiratory care has a higher priority on political and medical agendas. Participants and presenters shared their national experiences and best practices and discussed how these could be used in the toolkits that the Coalition is going to develop.
Patient testimonials
Testimonials of patients during the Summit: Dimitris Kontopidis (CF advocate, ELF Award 2021 winner), Helen Parks (Asthma advocate, ELF COVID-19 PAG), Isabel Saraiva (COPD advocate, ELF Past-President)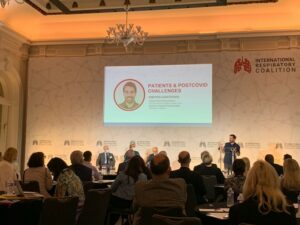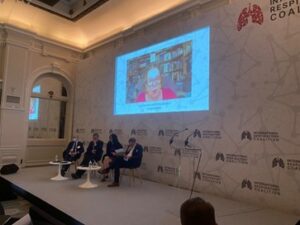 Patient representatives speaking at the IRC Summit: Sarah Woolnough (Asthma + Lung UK), Tonya Winders (GAAPP), Isabel Proaño (the European Federation of Allergy and Airways Diseases Patients' Associations)