Oksana Kulish-Skaara is from Ukraine, currently living in Norway. She is living with pulmonary hypertension (PH) and is a member of the ELF Council, representing the European Pulmonary Patient Ambassador Programme (EPAP) Patient Advisory Group (PAG). This year, Oksana attended the European Respiratory Society (ERS) International Congress in Barcelona, Spain. Here, she shares her reflections after attending one of the most-attended sessions "How a crisis impacts health care providers and patients". The topic was related to the current healthcare situation in Ukraine and how the war has affected it.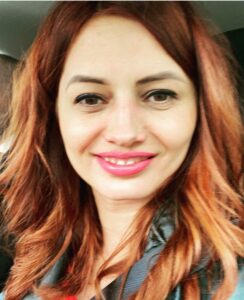 "Life is arranged in mysterious ways. A few years ago, I was an ordinary patient with a heart and lung disease, living in my native country of Ukraine with my husband and little boy. Now I am married again and live in Norway. My son now speaks Norwegian and is a teenager attending a Norwegian high school. I am a member of the ELF Council, in addition to being the head of the PH Patients' Association in Ukraine (PHURDA). And I'm sitting in the audience at the ERS Congress listening to a presentation about healthcare during the war. This is my dear native country, which is at war after the invasion by our neighbours from Russia. How life can suddenly turn everything upside down…
"I was stunned as I sat in the session room. It was, first of all, an all-consuming sense of gratitude for all the support that was shown to Ukraine, Ukrainian medical workers and patients. I felt support from the audience, session leaders, speakers, World Health Organization (WHO) and ERS.
"It was very difficult to hear from a doctor who reports from Ukraine about the problems they face. It is incredible that more than 100 Ukrainian doctors are now in Russian captivity! In addition, so far 18 doctors have been killed and about 50 medical workers have been injured during the conflict, trying to help Ukrainian patients. And my heart breaks when I hear that 900 medical institutions in Ukraine have been damaged – 123 of them cannot be repaired.
"But it gives us hope to hear the testimony of patients like Olena. She called me and told me about how she had to flee the country after her hometown was bombed. But her love for Ukraine brought her home. She wanted to continue working there with patients, and is trying to adapt to the new and strange norm. Its history has been strong, and like many other Ukrainians, it is also full of optimism, despite the current chaotic situation. She believes in a bright future without any war and with an improved health care system.
"I am also very grateful to Dr. Joanna Chorostowska-Wynimko. She is a real ambassador of Ukraine, and it was great to hear about all the work that she did and was a part of as a representative of the ERS leadership. ERS have provided direct support, as well as substantial financial support to Ukraine through the WHO. And the words of the WHO Regional Head for Europe, Hans Kluge, still sound in my ears: "Health is not politics, and the WHO slogan that we do not ignore anyone is very true in these times."
I'm so happy to be a part of ELF. They bring together all stakeholders, including doctors, patients and authorities. As a single force, we will help ensure a better future for everyone. Because war can bring the worst out in people, but it also does the opposite. The war will end one day– hopefully soon. And with all the support and goodwill of everyone, Ukraine will be restored, including our healthcare system.  Glory To Ukraine!"
More about the session
The recording of the session "How a crisis impacts health care providers and patients", Chaired by Prof. Anita Simonds and Prof. Arzu Yorgancıoğlu, is available on the ERS Congress platform. A short overview of the content of the session is provided here:
The first presentation was from a representative of the WHO, the regional European director, Hans Kluge. He started describing the current situation in Ukraine. Currently 7 million people are displaced within Ukraine and an additional 7 million people have fled the country. Kluge explained that one often sees contagious diseases in these kinds of situations as self-protective health measures become more difficult than under normal circumstances. The disruption in treatment also becomes a big problem for people in need of healthcare. Kluge also pointed out that these problems come on top of the COVID-19 pandemic, which has been a big problem in Ukraine. Only 20% of the population have been fully vaccinated. Kluge also stressed that tuberculosis (TB) is still a serious problem in Ukraine. When people flee to other countries that are not used to dealing with this disease, problems might occur in these countries too. However, not all is bad, according to Kluge, 9,000 health workers have received training during the war and lots of drugs have been delivered through neighbouring countries – especially Poland and Moldova. Kluge stressed that health is not political and that the WHO's slogan to leave no-one behind is very true in these trying times.
Dr Vitalii Poberezhets from Vinnytsia in Ukraine was then available via a telephone link. He gave a strong presentation about the current situation in Ukraine and at his hospital. His city is located in south-west Kyiv, and he described how the population had gone from 370,000 citizens to 540,000 (an additional 170,000 due to internally displaced people). Vitalii talked about the additional problems caused by COVID-19. In addition, they had noticed a large increase in people with asthma and COPD problems. They were puzzled by this, but have now realised that prolonged stays in poor-condition shelters and basements has caused lung problems. Dr. Vitalii stressed that telemedicine has now become much more common in Ukraine than before. Some doctors report as much as 80% of their consultations are now remote. However, it is not usually specialised heath software that is used, but rather common communication programs such as WhatsApp, regular phone calls, etc.
One issue that was very close to Dr. Vitalii's heart was that more than 100 doctors currently are in Russian captivity. The captive doctors are totally isolated and family members are not able to communicate with them. This causes much anxiety. He also pointed out that 18 doctors have died during the conflict so far and that about 50 medical workers had been wounded. About 900 medical facilities had been damaged and 123 of them had been totally destroyed beyond the point of repair.
Dr Vitalii also made another point that many doctors in the Ukraine are female. They often want to take care of their children and family during time of crises and therefore leave the country. Many Ukrainian patients are therefore without doctors to care for them. This leads to an increased need for self-management.
Next was a PH patient called Olena Yurchenko. In a 6-minute long video, she talked about how the war had affected her health. Her mental health had, for instance, deteriorated during the conflict. However, now she described how she starts to get used to the new situation even if it is difficult. She also talked about how her doctor had fled to Italy and she had problems with doctor appointments due to this. Access to medication had also become a much larger problem than before. However, Olena kept a positive attitude and thought that life would go back to normal once the war is finally over.
The president of the respiratory society in Kyiv echoed Dr. Poberezhet's views in his presentation. He stressed the problems with increased asthma and COPD cases, and the desperate situation for many sick people that had problems with access to drugs and no doctors to consult.
Next was Prof. Joanna Chorostowska-Wynimko who talked about the measures taken by ERS in response to the invasion. Joanna described three statements that were initially issued by ERS in the first phase of the war: in the first statement, together with ELF, ERS expressed support for Ukraine. Secondly, they stopped collaboration with the respiratory societies in Russia and Belarus. They also banned them from participating in clinical research, gave no grants to them and banned them from having any official role in ERS. In the third and final statement, they summarised other measures that ERS had taken. One was that they had extended membership to Ukrainians at no cost. They also provided free registration to the ERS Congress and had sent support statement videos to their Ukrainian members.
Prof. Chorostowska-Wynimko also talked about how they had collaborated closely with Oksana providing great benefit for the Ukrainian patients. They also mentioned how Oksana, at her own initiative, had started fundraising activities for Ukraine.
Finally, Prof. Chorostowska-Wynimko pointed out the collaboration ERS had with WHO in bringing help to Ukraine. ERS has donated 90,000 euro for this purpose.
The session was concluded with a Q&A. Many online viewers had written their support to the Ukrainian people. They also found the presentations by Dr Poberezhets and Olena very touching. When asked if the panellists had something to add, one important point was brought up: when patient refugees return to Ukraine from abroad, it is important that they can continue with the medication that they had been given in the country that they stayed. It was also stressed that there would be a big need for rebuilding the healthcare system after the war. This was not only related to the physical damage afflicted on healthcare buildings, but also the need for education of healthcare staff.
The session was concluded with a standing ovation from the audience. This is very unusual at the ERS Congress and shows the large support and empathy people, including doctors and patients, have for Ukraine have at the moment.