Pulmonary hypertension (PH) news
PHA UK gets media visibility during PH Awareness Week
The first week in November saw the Pulmonary Hypertension Association UK (PHA UK) deliver their annual Pulmonary Hypertension Awareness Week. They had newspaper stories and TV and radio coverage around the UK, and a number of videos (which you can view here) were produced to help people understand more about how the rare lung condition affects people's lives.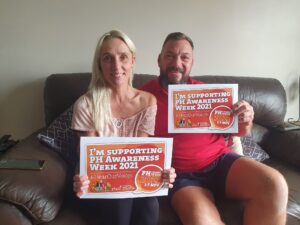 PHA Europe gets active for PH Awareness Month and participates in first virtual forum
November is celebrated as Pulmonary Hypertension (PH) Awareness Month all over the world. PHA Europe was very engaged in a lot of activities. They started an online campaign with the theme of "Get the fact on PH": 7 informative cards both in English and Spanish were posted on their social media. They also provided a detailed social media timeline with text and proposed hashtags to help their members and PH associations all over the world get involved in the campaign. https://www.phaeurope.org/awareness-month/awareness-month-2021/
Also, tied in with PH Awareness Month, PHA Europe worked with ELF to produce an inspiring patient experience video of three people with PH who made great achievements in spite of their condition. You can watch the video here: https://www.youtube.com/watch?v=SSitXGZGGLU
PHA Europe also participated in the first virtual forum: "Knowing the challenges of the Pulmonary Hypertension community in Latin America" as a panelist to give an insight into the European situation.
PAHSSc takes part in awareness campaigns and is represented at Istanbul Marathon
November was a busy month for the Pulmonary Hypertension and Scleroderma Patient Association (PAHSSc) with a focus on pulmonary hypertension (PH) and national organ donation week in Turkey. They also celebrated Chronic Thromboembolic Pulmonary Hypertension (CTEPH) Day. The public service advertisements on PH were completed and broadcast over the Internet in both Turkish and English to help people identify their symptoms before diagnosis.
Three PAHSSc board members completed an 18-month training programme on the running of an organisation. As a result they redefined the mission and vision of the association and wrote a three-year strategic plan.
PAHSSc was represented by a group of doctors in the 43rd Istanbul Marathon, broadcast interviews with seven PH centres in Turkey, and continued with patient stories on Instagram.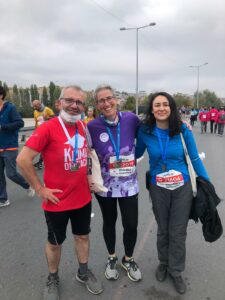 COPD news
GAAPP co-launches SPEAK UP FOR COPD campaign
The Global Asthma & Airways Patient Platform (GAAPP) has partnered with the International Federation of Ageing and industry partners to launch the SPEAK UP FOR COPD campaign, which has one critical goal: to increase the awareness and understanding of COPD among policymakers and healthcare systems. The global cost of COPD is estimated to rise to US $4.8 trillion in 2030, but it does not receive the political attention or funding in proportion to its population and societal burden. The world can no longer afford to overlook COPD. The impact of COPD on individuals and society needs to be more well recognised to ensure people living with this condition receive the care they need and deserve.
Support the SPEAK UP FOR COPD campaign: https://speakupforcopd.com/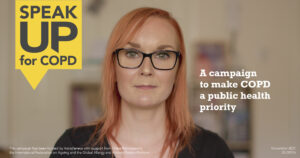 Catch up on COPD patient webinars from Associazione Pazienti BPCO
The Italian COPD Patient Association organises monthly educational webinar meetings for COPD patients on various topics.  You can see the recordings of the meetings on their YouTube channel: Associazione Pazienti BPCO
APEPOC tackles underdiagnosis of COPD in women
The Spanish Society of Primary care Doctors (SEMG) and the Spanish Association of COPD Patients (APEPOC) are joining forces to tackle The challenge of underdiagnosis of COPD in women. COPD cases in women in Spain have increased by 70% in the last decade. In addition, 88.2% of women over the age of 40 with COPD do not know they have the disease.
Alpha-1 news
Alpha1 Deutschland produces flyer for young people with AATD
Alpha-1-antitrypsin deficiency (AATD) shows up in early years and then often not again until around 40 years of age. Young people are "fortunately" mostly healthy, but measures to help prevent people with AATD from developing chronic conditions such as COPD is particularly important at this stage. Therefore, with the support of the UK Bonn team around Prof. Ganschow, Alpha1 Deutschland e.V. has developed a flyer for young people with severe AATD. You can find this flyer in German on their website: https://www.alpha1-deutschland.org/alpha1-journal
Alpha-1 Foundation Ireland participates in several conferences
The Alpha-1 Foundation Ireland participated in a number of events over the last few months.
On 17 September they participated in the ANÁIL Respiratory Nurse annual conference, which was a virtual event and was well attended.
On 8 October, the Tallaght Respiratory Department invited the Alpha-1 Foundation to present in person and Dr. Tomás Carroll, Chief Scientist, completed an Alpha-1 awareness talk.
On 9 October Dr. Tomás Carroll and CEO Geraldine Kelly were panellists at the Global Alpha-1 Congress in a discussion entitled "Understanding Clinical Trials", where more than 150 participants attended the virtual event.
Sarcoidosis news
SarcoidosisUK holds patient event "Debunk the Myths Around COVID-19, Vaccines and Sarcoidosis"
On the 28 October 2021, SarcoidosisUK hosted a patient event about COVID-19 vaccines. This was a free, virtual event, created specifically for sarcoidosis patients, and included the following sessions:
General approach to vaccines (types, efficacy, role of immunosuppression). Speaker: Dr Peter Kelleher
COVID-19 vaccines (efficacy and safety). Speaker: Dr Ricardo José
Sarcoidosis and COVID-19 (balance between risk of COVID-19 infection and vaccines). Speaker: Professor Athol Wells
If you missed it, you can watch the recording of the event here: https://www.sarcoidosisuk.org/information-hub/about-sarcoidosis/vaccine-patient-day-2021/
FSR hosts Gratitude & Giving Campaign and is awarded Chan Zuckerberg Initiative grant
The Foundation for Sarcoidosis Research (FSR) will be hosting their first-ever Gratitude and Giving Campaign to share how thankful they are for the incredible progress and accomplishments they have made this year. They invite their community to practice gratitude – while raising awareness for sarcoidosis! Learn more here: https://www.stopsarcoidosis.org/gratitude-giving/
FSR has been awarded $600,000 in the Chan Zuckerberg Initiative: Rare As One Cycle 2 Grant in Diversity, Diagnosis, and Clinical Trials to improve diagnostics and increase research in sarcoidosis. Learn more here: https://www.stopsarcoidosis.org/fsr-awarded-600000-chan-zuckerberg-initiative-rare-as-one-cycle-2-grant-in-diversity-diagnosis-and-clinical-trials/
Other news
FairLife LCC launches activities for Lung Cancer Awareness Month
FairLife LCC launched a range of events for this year's Lung Cancer Awareness Month (November 2021):
Associazione Italiana Bronchietassie closes 2021 with great achievements
The Italian Bronchiectasis Association (AIB) will be closing 2021 with a range of initiatives and news, including:
a new logo release;
a mini-video for fundraising and Christmas wishes to be launched soon; and
an updated release of the list of specialised centres in Italy for bronchiectasis.
TBEC evaluates TB and mental health and holds webinar on Parliamentary Engagement and EU advocacy
The Tuberculosis European Coalition (TBEC) is currently carrying out a survey on TB and mental health as they can have a huge impact on people's quality of life, and poor mental health is also associated with poor treatment adherence in people with TB. The main aim of this survey is to see how they can better advocate for mental health services for TB patients and TB survivors.
The survey link: https://forms.gle/q2Jwk3YMvPSHZ1LZA
As part of TBEC's EU mentoring session, they also ran an interactive webinar on Parliamentary Engagement and EU advocacy, which took place on Monday 13 December. The session was led by Canian Russel, Senior Policy Officer at ILGA Europe (European Regional of the International Lesbian, Gay, Bisexual, Trans and Intersex Association).
MATIO Polish CF Foundation co-organises international conference of cystic fibrosis 'V4 future CF?'
The MATIO Polish CF Foundation co-organised the international conference of cystic fibrosis 'V4 future CF?', which took place in Kraków on 19-20 November 2021. The conference was hybrid (face-to-face and online). The conference's main objective was a discussion with education of doctors, CF experts and representatives from various organisations from several European countries.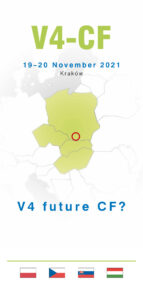 Aspergillosis Trust prepares for next World Aspergillosis Day and releases 2022 calendar
Aspergillosis Trust (AT) have been busy planning for World Aspergillosis Day in February 2022. Part of the planning is a complete makeover of their website as they felt a change was necessary to bring their message to more people. www.Aspergillosistrust.org
Some AT members have participated in a peer review of NICE Managing COVID-19: COVID-19 Associated Pulmonary Aspergillosis.
AT is also beginning to form new and hopefully productive relationships with other charities in the hope of furthering their messages together.
The AT fundraising calendar for 2022 is on sale and it has so far been very well received by all who have purchased it. https://aspergillosistrust.org/awareness-goods/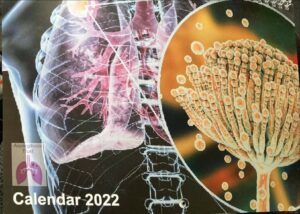 FFAAIR in the Salon of Seniors
This year the French Federation of Associations of Respiratory Patients (FFAAIR) had a stand in the Salon of Seniors in the centre of an exposition in Paris. More than 26,000 people went to this event. People could ask questions about respiratory health at the stand. They also had brochures and leaflets to hand out which were well received, as well as a questionnaire which was also popular. FFAAIR President Marie-Agnès Wiss also gave a presentation in a busy hall.
Find out more: Les univers – Salon des Seniors Salon des Seniors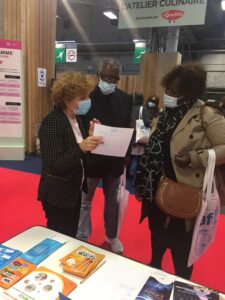 Lovexair Foundation holds 3rd Ibero-American Summit for Respiratory Patients
Fundación Lovexair organized the 3rd Ibero-American Summit for Respiratory Patients 2021, which was held on 1-3 December. The programme was mainly in Spanish, but this year they invited seven key speakers in English and provided translation. This important event brought together patients, healthcare professionals and experts to support future leaders in Clean Air, Respiratory Care & Digital Health.
Video in English: https://youtu.be/fHrHNYJ-PZE
Lungenliga works to protect young people against tobacco smoke
The Swiss Lung Association does not believe that the recently adopted Swiss Tobacco Products Act provides sufficient protection for young people. Therefore, they have been involved with the popular initiative "YES to the protection of children and adolescents from tobacco advertising", which will be put to the vote on 13 February 2022.