Image: APEPOC stakeholder meeting with patients, family members, the board of experts and parliamentarians.
FENEAR launches new quit smoking campaign in Spain
The Spanish Federation of Allergy and Airways Diseases Patients' Associations (FENAER – Federación Española de Asociaciones de Pacientes Alérgicos y con Enfermedades Respiratorias) launched a new campaign on World No Tobacco Day in May, entitled "Today is a great day to quit smoking". The campaign raised awareness on social media and Google advertising, sharing messages about the importance of quitting smoking for improving health and lengthening life. It also put a spotlight on the negative impact tobacco companies have on the environment.

Sevilla Respira presents documentary to sports clubs and celebrates World Asthma Day
Sevilla Respira met with the Councilor of Sports and Ecological Transition of the Seville City Council to organise the presentation of their documentary "Breaking Stigmas" to all the sports clubs of Seville. The aim is to demand an urban plan where certain trees in the city that are known to cause a large percentage of allergies should not be planted in the city.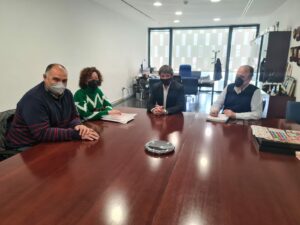 Sevilla Respira met with fellow member associations of FENAER at a Word Asthma Day event held at the Health Commission of the Spanish Congress of Deputies.
COPD on the agenda for Spanish politicians
The Spanish COPD Patient Organisation (APEPOC – Asociación de Pacientes con EPOC) has continued its regional breakout sessions with patients and politicians. The sessions aim to encourage more in-depth understanding of the respiratory community in Spain.
A closing ceremony took place on 29 June, including a APEPOC stakeholder meeting with their patients, their families, the board of experts and the parliamentarians who have particularly supported them in the last year. This key event provided an opportunity for fostering policy innovation and strengthening relationships with face-to-face interactions.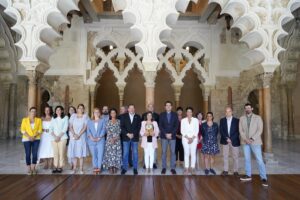 Lovexair presents HappyAir Pharmacies 2022 edition
Lovexair has held the second edition of HappyAir Pharmacies, a community support programme that provides face-to-face lung health assessments to COPD patients.  These events were held in Valencia, Spain, in May, with the support of the Servicio de Fisioterapia Cardiorrespiratoria of Universidad CEU Cardenal Herrera, in collaboration with Boehringer Ingelheim and the Spanish COPD Patient Organisation (APEPOC – Asociación de Pacientes con EPOC).
Watch a short video to find out more about these events: https://www.youtube.com/watch?v=m9k_gBRxYL4
New AIB Board of Directors and an end to series of online patient events
On 31 May, the Italian Bronchiectasis Association (AIB – Associazione Italiana Bronchiettasie) held its members' assembly, during which a new Board of Directors was elected.
The online activities aimed at bronchiectasis patients ended on 19 May, with the webinar held by Prof. Blasi, Director of bronchopneumology at Policlinico Milano. The events organised for AIB members will finish on 30 June with the meeting of the group that initiated IL CIRCOLO DI LADY WINDERMERE (an exchange between patients and a psychologist). Future events and activities will be organised by the newly elected board of directors.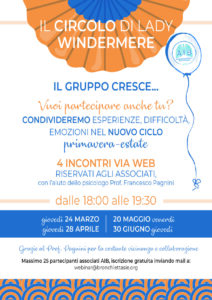 New PH department opens in Serbia on World PH Day
Pulmonary Hypertension (PH) Serbia was delighted to mark the 10th anniversary of World PH Day with the opening of a new department at the University Clinical Centre of Serbia. The new department features state-of-the-art equipment in a modern facility to help manage people living with PH in the country.
The whole event featured on national television (RTS) and Danijela Pešić, President of PH Serbia, shared information on the importance of the new facility. Her host even used the straw and the nose clip to demonstrate the difficulties PH patients face daily.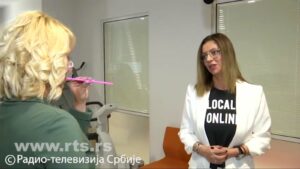 PH Serbia also continued a new campaign under the title "Zajedno za PH "– "Together for PH ", which featured an awareness booth at a three-day convention of pulmonologists in Serbia. The event hosted several hundred doctors and experts from the country and abroad.
The association also took part in a major event – 'Marking the first century of Serbian pulmonology'. It involved many associations, academics and institutions who have contributed to the advancement of Serbian pulmonology. PH Serbia was recognised during this ceremony and were proud to be featured. The event also featured key sessions on the treatment of PH including better screening and diagnostics.
First face-to-face meeting in 3 years for PCD Support UK
After no in-person meetings for nearly 3 years, PCD Support UK held their long-awaited Medical Board Meeting on 20 May 2022. This event brought 60 PCD professionals together from across the UK, including physicians, clinical scientists, researchers and allied health professionals. The event aimed to keep the UK clinical PCD community up to date and to give an opportunity for networking and sharing of new ideas. They invited a sketch artist to graphically record the day so that they could communicate this to their patients and families.
Watch the highlights video of the event: https://www.youtube.com/watch?v=tFBZZ4_b83g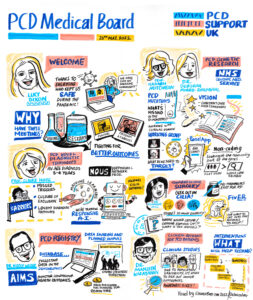 Updates from the LAM Academy Sweden
The LAM Academy in Sweden has had a busy month. They are currently working towards the creation of a LAM Knowledge Centre in Sweden. They have also been celebrating Worldwide LAM (WWLAM) Awareness Month with a gathering of LAM patients and family members. In preparation for the LAMposium in September 2022, they have also been fundraising in the hope of sending patients and healthcare professionals to the event.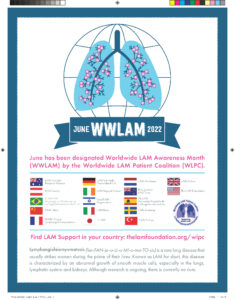 PAHSSc celebrates Scleroderma awareness month in June
The Pulmonary Hypertension and Scleroderma Patient Association (PAHSSc) in Turkey marked Scleroderma awareness month in June. They shared patient stories and interviews with doctors on their social media and became a member of the Alliance for PH. They collaborated in the 2nd International Organ Donation contest, which was followed by an exhibition where the winners displayed their work. They also hosted an art exhibition for children with PAH at age 8.
GAAPP holds annual meeting in Prague
On 30 June, before the EAACI (European Academy of Allergy and Clinical Immunology) Conference, the GAAPP (Global Allergy and Airways Patient Platform) held their Scientific Meeting and Annual General Meeting as hybrid meetings in Prague and online. Sessions included updates on the GINA and GOLD Guidelines, Immunology, and Food Allergy. It covered the impact of COVID-19 and Long-COVID. There was also a presentation on Type II Inflammation and Biologics.
Watch the recorded Scientific Meeting Sessions at: https://www.youtube.com/channel/UCmHxc5eHycJK1rZGmgwUjsw
APF announces research priorities for progressive pulmonary fibrosis
Action for Pulmonary Fibrosis (APF) is delighted to announce the Top Ten Progressive Pulmonary Fibrosis Research Priorities, agreed by patients, carers and clinicians: https://www.actionpf.org/research/james-lind-alliance
This Top Ten List – developed using the James Lind Alliance's Priority Setting Partnership method in collaboration with Imperial College London, will ensure future pulmonary fibrosis research focuses on the areas that matter most to people who live with the condition, and those involved in their care and treatment. APF are taking action on the Top 10 priorities and have opened their 'Fellowship Call 2022' seeking applications from exceptional researchers.  The deadline for 'expression of interest' is Friday 9 September. More details at https://www.actionpf.org/research-info/fellowship-award
FSR Global Virtual Patient Summit: Unveiling Possibilities –30-31 July 2022
The Foundation for Sarcoidosis Research (FSR) invites newly diagnosed and long-term sarcoidosis patients, caregivers, and family and friends of someone impacted by sarcoidosis to attend this year's FSR Virtual Patient Summit, to be held 30-31 July 2022.
Unveiling possibilities will bring connection, expertise, and shared experiences to help you and your loved ones throughout your sarcoidosis journey! Join FSR and world sarcoidosis experts for exciting plenary sessions, engaging networking and discussion sessions, and tracks for both those who are newly diagnosed or have been living with chronic sarcoidosis.
Early Bird Patient/Supporter Registration is available for $60 until 30 June. Limited scholarships are also available until 30 June. Learn more and register: https://bit.ly/3zaNk1w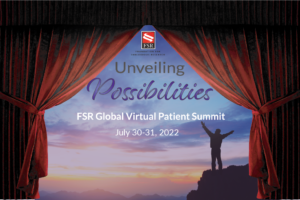 FSR Global Sarcoidosis Clinic Alliance
FSR is thrilled to announce the launch of the FSR Global Sarcoidosis Clinic Alliance, a ground-breaking initiative that will have a worldwide impact on advancing sarcoidosis research and improving the lives of those with sarcoidosis through patient and clinician education, engagement, and support.
The FSR Global Sarcoidosis Clinic Alliance brings together sarcoidosis clinics and hospitals committed to finding a cure and offering evidence-based, patient-centric care for those living with sarcoidosis. Alliance members will benefit from innovative resources, sustainable programming, and tools to accelerate treatment, research, and the continuum of patient care. Learn more: https://bit.ly/3zV1Pa4
WALCE campaign encourages people to quit smoking
After a two-year break during the pandemic, WALCE (Women Against Lung Cancer in Europe) has relaunched their campaign to encourage people to quit smoking.
The "GET OUT OF THE TUNNEL, DO NOT BURN YOUR FUTURE" programme focuses on prevention and awareness of the risks linked with smoking. A large tunnel, shaped like a cigarette, is taken around major cities in Italy and other European cities. Inside the tunnel there are educational resources from lung health experts on the harms caused by tobacco and related problems. There is also the chance for people to get a free spirometry test.
The first event of this year took place in May in Florence. Over 300 people visited the tunnel with 200 taking a spirometry test. Organisers found that many young people aged between 15 and 25 were already heavy smokers but were pleased to see they were taking an interest in their health by choosing to take a spirometry test.
SarcoidosisUK hosts annual patient day
SarcoidosisUK hosted their annual Neurosarcoidosis Patient Day last month. The event, which took place on 11 June, welcomed back neurosarcoidosis expert Dr Kidd as well as hearing from Dr Higgins who spoke about mental health and the consequences of living with a chronic disease.
If you would like to watch the talks from this event, the recordings and transcripts for each session are now available on the Sarcoidosis UK Patient Day Hub: https://www.sarcoidosisuk.org/information-hub/about-sarcoidosis/sarcoidosisuk-patient-day-hub
EUFOREA celebrates CRSwNP awareness day and new white paper
On 20 April EUFOREA (European Forum for Research and Education in Allergy and Airways Diseases) celebrated the launch of the first Global CRSwNP (Chronic Rhinosinusitis with Nasal Polyps) Awareness Day.  They were joined in Brussels by a stellar panel of patients and experts for a lively discussion on #CRSwNP care and patients' unmet needs.
In 2021, the Patient Advisory Board of EUFOREA published a statement on the on the burden of CRSwNP. Following this milestone event, EUFOREA has extended this initiative with the publication of a White Paper on European Patient Needs and Suggestions on Chronic Type 2 Inflammation of Airways and Skin. The White Paper covers the unmet needs of patients with type 2 inflammatory diseases and comorbidities including CRSwNP, asthma, atopic dermatitis and respiratory allergy that must be addressed by physicians, the academic community and health policy makers.
For more information about Chronic Rhinosinusitis with Nasal Polyps including resources for both healthcare providers and patients, please visit the campaign page here.