Pulmonary fibrosis news
PF Trust Vice-President returns to his mission to run across USA in memory of his mother
Nick Ashill, Vice-President of the Pulmonary Fibrosis Trust (PF Trust), UK, is returning to his mission to run 5400 kilometres across the United States of America (USA). Nick began this challenge in 2017 after losing his mother to pulmonary fibrosis (PF) in 2015. During the challenge, Nick was tragically hit by a truck. This left him with severe injuries and unable to walk for several months. After many surgeries, physiotherapy and rehabilitation, Nick will be returning to the USA in May/June 2022 to complete his mission and raise awareness of PF in memory of his mother.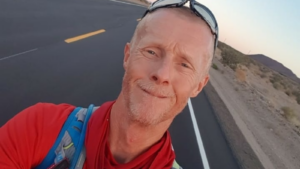 Longfibrose publishes brochure on Familial Pulmonary Fibrosis
The Dutch Association of Pulmonary Fibrosis Patients (Longfibrose) has published a brochure all about familial pulmonary fibrosis. Pulmonary fibrosis (PF) can be a hereditary condition. The brochure provides information on what familial PF is, how it can be diagnosed and what it means for family members of familial PF patients.
View the brochure in Dutch or English.
Pulmonary hypertension news
PHA Europe publishes latest edition of Mariposa Journal
The European Pulmonary Hypertension Association (PHA Europe) is delighted to present the latest edition of their journal, Mariposa, which is available on their website. This edition gives you an insight into last year's activities at the EU and membership level. They hope you like the journal and get a clear picture of last year's projects and initiatives.
PAHSSc takes part in international conferences to represent pulmonary hypertension patients
PAHSSc's activities in February were centred on Rare Disease Day (28 February 2022). They carried out seminars with doctors who treat rare diseases. They joined formal meetings with the Ministry of Health, Rare Disease Network's Symposium and the First Global Rare Disease Celebration.
PAHSSc also participated in PHA Europe's Annual Pulmonary Hypertension European Conference by having a virtual stand. One of their patient members joined a class at Ege University Faculty of Medicine to talk about what it means to be on the waitlist for a lung transplant. The aim was to help give the future doctors an insight into the world of a patient. PAHSSc was also represented at the Turkish Thoracic Society's Lung Disease Symposium.
One of the peak points in February for PAHSSc was the publication of a news article in Sozcu, a leading local newspaper. The severe economic crisis in Turkey means that the price for household electricity has increased drastically. PAHSSc advocates for discounted electricity prices for patients who are connected to electrical devices such as oxygen concentrators. Through this article and other awareness events, they hope to make patients pay less since a basic utility such as electricity is not a luxury but a necessity to stay alive.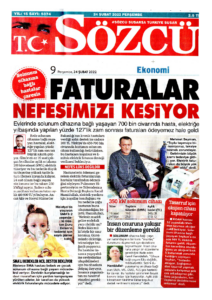 PHA UK works on a range of informational resources
The Pulmonary Hypertension Association UK (PHA UK) has been putting the final touches to some valuable supportive resources for its members and the wider pulmonary hypertension (PH) community. These include:
publications on driving with PH,
publications on palliative care,
a self-help programme to support patients struggling with anxiety,
a film to support patients to benefit from physical activity, and
a major piece of qualitative research into the impact of the pandemic on the UK's PH community.
Keep up to date on the publications of these resources on the PHA UK website: www.phauk.org
Sarcoidosis news
Amici Contro la Sarcoidosi organises first National Sarcoidosis Congress in Italy
Friends Against Sarcoidosis Italy (Amici Contro la Sarcoidosi Italia) is organising the National Congress on the diagnosis and treatment of sarcoidosis, based on the new guidelines. It will be held in Bologna, Italy, between 30 April – 1 May 2022. This is the first congress specifically dedicated to sarcoidosis in Italy. Leading experts in the field are expected to participate as lecturers – the same ones who have taken part in the task forces that produced the guidelines. Pulmonologists, internists and leading experts in Italy will discuss decisions about diagnosis and treatment. They will answer questions from healthcare professionals to help them in their daily clinical practice. They will also discuss aspects that concern the diagnostic/therapeutic moments of the disease involving the main organs and tissues (lungs, heart, skin, eyes, nervous system, etc.) and long-term fatigue.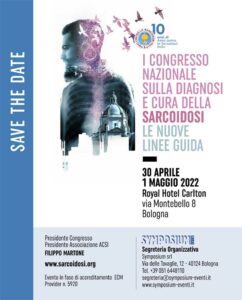 FSR holds webinar on impact of sarcoidosis on African American women and attends Rare Disease Day event
The Foundation Against Sarcoidosis (FSR) held a webinar: 'FSR Ignore No More: African American Women & Sarcoidosis Webinar'. FSR Women of Color Committee members discussed the research showing how sarcoidosis impacts African American women at a higher rate than other patients with sarcoidosis. They experience more severe and chronic forms of sarcoidosis, higher rates of hospitalisation and higher mortality rates when compared to Caucasian people and African American men. This webinar featured healthcare experts and patient advocates.
FSR was proud to be present at Rare Disease Day at the National Institute of Health (NIH) on 28 February 2022. FSR's Chief Strategy Officer Tricha Shivas, and Patient Advocate Erica Courtenay-Mann, joined the aTyr Pharma's President and CEO, Dr. Sanjay S. Shukla, for a panel discussion on 'Successful Clinical Trial Enrollment with True Advocacy Collaboration During Challenging Times.'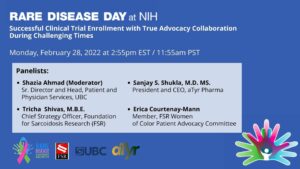 Other respiratory news
Alpha-1 Deutschland releases series of podcasts
Alpha-1 Germany (Alpha-1 Deutschland) has created a series of podcasts in cooperation with CSL Behring. So far, the following podcasts have been released:
Alpha-1 Germany introduces itself
Leisure and sports for Alpha-1 patients
Alpha-1 and Psyche: Dealing with the disease
Alpha-1 antitrypsin deficiency (AATD) therapy and self-treatment
Alpha-1 and Psyche – Communication Part 1: Silence is not always gold – how good communication can succeed
Alpha-1 and Psyche – Communication Part 2: Silence is not always gold – how good communication can succeed
Alpha-1 and Psyche – the power of resilience
Lungs & Liver
The podcasts are in German. They can be found on Spotify, Google Podcast and Apple Podcast.
GAAPP and APEPOC help get patients' views of Philip Morris's takeover of Vectura
Despite global resistance to Philip Morris's purchase of several inhaled drug manufacturers, the respiratory community faces the reality that a big tobacco company owns companies that develop medicines for diseases caused by smoking. Many professional societies posted a position following the purchase of Vectura by Philip Morris, including the Forum of International Respiratory Societies (FIRS), American Thoracic Society (ATS) and European Respiratory Society (ERS). To make sure the European and Latin-American patient voice and opinion is also heard on this issue, the Global Asthma & Airways Patient Platform (GAAPP) and Spanish patient organisation of COPD (Asociación de pacientes con EPOC – APEPOC) have joined forces with the COPD Foundation in the USA to translate this survey into German and Spanish. The survey is anonymous, and we encourage everyone to participate and share with your community.
Complete the survey in English, German or Spanish.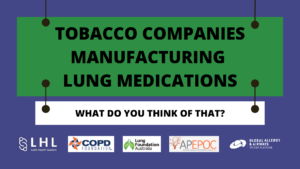 Lovexair raises their voices together for the Rare Diseases Community
Lovexair Foundation hosted an Instagram Live with @ArranStrong, a young professional surfer with Alpha-1 and HappyAir Ambassador, on Thursday 24 February at @lovexair for Rare Disease Day (28 February) #ShareYourColours
Martina (@alfa1argentina_ Argentina), Diego (@fiquires) and Dary (@fundacionayudanosarespirar) joined as special guests to share their testimony and experience of living with a rare condition. These young people, affected by different rare conditions (Alpha-1, pulmonary hypertension and cystic fibrosis) and representing Latin-American and European countries, came together to raise awareness of the 300 million people worldwide living with a rare disease, their families and caregivers.
Instagram Live: https://www.instagram.com/tv/CaXwaxXoMQk/
More information: https://www.lovexair.com/news/noticias-generales/244/244-Como-es-vivir-con-una-Enfermedad-Rara-o-Poco-Frecuente-EPOF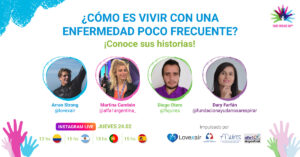 FairLife relates the success of clinical trials to a patient-centered model and raises awareness of inequalities between lung cancer patients
FairLife Lung Cancer Care (FairLife) participated in the webinar "Clinical Studies – The importance for the patient, the doctor and the health system". It was organised by the Research and Education Institute in Biomedical Sciences (REIBS). The webinar's aim was to introduce the field of clinical studies to undergraduate and postgraduate students of the Schools of Health Sciences (Medicine, Dentistry, Pharmacy, Nursing).
Korina Pateli-Bell, President of FairLife, emphasised the importance of the patient-centered approach, which complements the effectiveness of clinical trials and prevents inequalities regarding access to innovative therapies.
FairLife will also be running a survey in Greece conducted by the Global Lung Cancer Coalition. The survey aims to understand patients' experiences after being diagnosed with lung cancer.
FairLife celebrated World Cancer Day on 4 February 2022. They created an informative video to spread the message of eliminating inequalities between lung cancer patients. The action is part of the global awareness campaign "Close the Care Gap", designed by the Union of International Cancer Control (UICC).
Associazione Italiana Bronchiettasie continues free webinars and yoga/pilates classes
The Italian Bronchiectasis Association (Associazione Italiana Bronchiettasie – AIB) continues its free and open-access webinars dedicated to providing better knowledge of bronchiectasis and scientific information. They are supported by the experts of its scientific board. They will cover many topics and aspects related to bronchiectasis, such as:
Otolaryngology
Geriatrics
Pediatrics
Gender differences
Following the great appreciation of YOGA-ON LINE courses held in autumn-winter 2021-22, AIB decided to repeat the experience with a new cycle of 5 meetings in spring. AIB embraced the proposal of a patient member which helped to launch a new course: PILATES ONLINE. The courses demonstrated two different ways to actively involve body and breath dynamic.
Testimonials from patients, doctors and physiotherapists increasingly show that training, together with attention to breathing, are key allies for good management of the condition.
The courses started on 7 March 2022 on Mondays and Fridays for AIB members.
Social media kit: https://app.box.com/s/mq188np9fex5v528ffap2vyilyhypdy1