PAHSSc supports people with lung conditions in the aftermath of the deadly earthquake in Turkey
When Southeast Turkey was devastated by a series of high-magnitude earthquakes in early February, Pulmonary Hypertension and Scleroderma Patient Association (PAHSSc) formed a committee to help ease the aftermath of the quake. In addition to sending oxygen concentrators to the affected patients in the area, they communicated through radio transmitter to identify the needs and cooperated with municipalities, government bodies and NGOs to supply them. They followed up on the aid sent to the region to ensure that it was distributed properly. They supplied clothes, food and even lodging to the people that were evacuated from the region. Two of the members took active duties as official search and rescue members, one of them a caregiver and the other a PAH patient. PAHSSc also reached out to patients that were living on the streets or in tents to make sure they had their medications and sent medication if they did not. This disaster strengthened the ties between members as they all acted in solidarity to help make the lives of patients easier.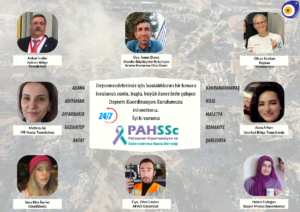 EFA Digital Patients Prize: rewarding asthma & COPD patient-centred technology!
The European Federation of Allergies and Airways Diseases (EFA) has launched a prize to welcome applications from innovators whose digital products improve the lives and health of asthma and Chronic Obstructive Pulmonary Disease (COPD) patients in Europe. The EFA Patients' Digital Prize is set to award the digital technology, directed to asthma and COPD patients, that embed patients' input from development to implementation, are accessible for patients' use, and facilitate dialogue between patients, healthcare professionals, and the digital sector. The submission and selection criteria are based on EFA's 'DIG_IT Report: Asthma and COPD Patients' Digital Journey in Europe', launched in June 2022, and is the outcome of a survey of over 900 patients in five European countries about patients' reported benefits, the barriers, and concerns around digital health. The application is open until 27th March 2023. All information is publicly available on EFA's website. EFA Patients' Digital Health Prize finalists will be invited to the award ceremony late April 2023 in presence of EFA Members, to benefit from structured exchanges with EFA and its members.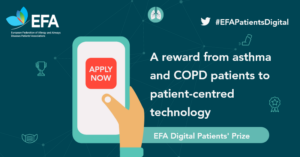 Psychosocial support for people living with lung cancer by FairLife LCC
Identifying positive psychology and mental well-being as key factors in addressing lung cancer, FairLife Lung Cancer Care (LCC) in Greece hosted a webinar, on Wednesday, 1 March 2023, entitled "The significance of psychosocial support to lung cancer patients, their families and caregivers." Mental health professionals, scientists, representatives of the State and of institutions demonstrated the value of psychological support for those impacted by lung cancer. BREATH, a Program for Psychosocial Support, offered by FairLife LCC. The programme runs nationwide, free of charge to lung cancer patients, their family and caregivers. It was presented in collaboration with qualified mental health professionals. The informative webinar concluded with the lived experiences of patients and caregivers, who have participated in the program. Read more here.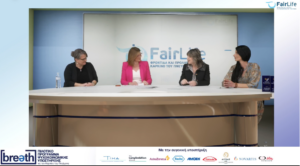 New awareness campaign — Speak Up! — from Alergija i ja
Speak Up! is a new monthly Instagram Live Podcast from Alergija i ja (Allergy & Me) in Slovenia where guests can speak up about their journey with allergies, atopic eczema and asthma. The aim is to support patients and spread awareness about life with allergies.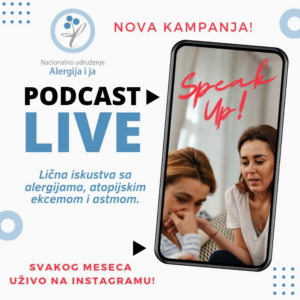 Foundation for Sarcoidosis Research Inaugural Gala — May 24, 2023
FSR is proud to announce its Inaugural Sarcoidosis Crystal Awards Gala: Celebrating Connections, Collaboration, and Catalyzing Research. The Gala will bring together the sarcoidosis community for an evening celebrating clinicians, researchers and advocates from around the globe who are leading the charge to advance sarcoidosis research and carve the path towards better treatments and a cure.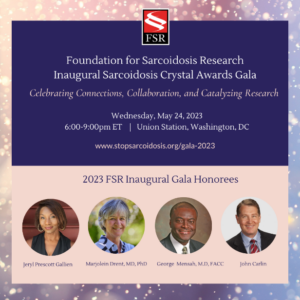 New experimental study from APEPOC
The Spanish association of COPD patients, APEPOC, started an experimental study with the Complutense University of Madrid. This study aims to improve the physical and emotional health of people diagnosed with COPD and their families.
The patient will learn strategies to cope with different situations that may arise and to solve by themselves at the different stages of their disease. They will feel more empowered and motivated to face their situation and will achieve better results by getting personally involved in their emotional and physical health.
The study is supported by different webinars and infographics. Here is the link to the first webinar: https://1drv.ms/v/s!AlccqUlMgG_u5D3-LG7UMwd80wsS?e=sUQR0Q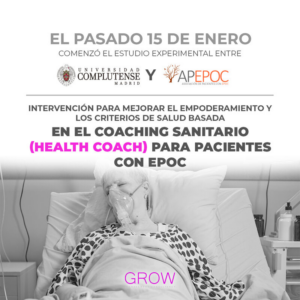 Various activities from the Associazione Italiana Bronchiettasie
The Italian Bronchiectasis Association (AIB-APS) participated in the 3rd European Workshop on Bronchiectasis 23–25 February, where they had the opportunity to represent bronchiectasis patients and meet new important contacts for their mission.
From 13 March, pilates started again with teacher Marcella Pastoris, while in the evening patients were able to relax with yoga nidra led by Azzurra Innamorati. On Wednesday, March 15 at 18:00. their Yoga class with Raffaella Pisati started again.
On International Women's Day (8 March), AIB-APS organised a webinar to talk about bronchiectasis in female life stages: menstrual cycle, pregnancy, menopause and hormonal changes with Dr. Luca Palazzolo and Dr. Alessandro Cialente, moderated by Dr Vittoria Comellini, a member of the Scientific Committee of AIB-APS.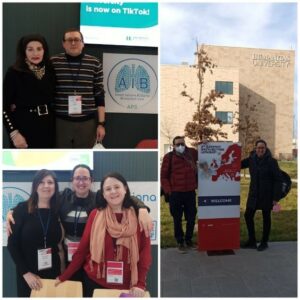 Rare Disease Day in Ukraine
On 28 February, CF Sister Dalila and PHURDA joined the global initiative Rare Disease Day to raise awareness of rare diseases and improve access to treatment for patients with rare diseases and their families. "We need to speak to be heard. Everyone in their place: patient, doctor, official." That is why, on February 28 at 18:00 (Kyiv time), they held a webinar for family doctors and paediatricians on "Rare diseases in Ukraine". Speakers included: – Nataliia Samonenko, Head of the Center for Orphan Diseases and Gene Therapy of the "Okhmatdyt" of National Medical University; – Iryna Zhyvylo, Ph.D., cardiologist, PH specialist. Rare! We know. We are stronger together!
Alpha-1 Antitrypsin Deficiency: your questions — expert's answers
Alpha1 Deutschland created 12 animated films on frequently asked questions from the relatives of young Alpha-1 Antitrypsin Deficiency patients. Among other things, they dealt with vaccinations, check-ups and tips for everyday life.
Share the good, the bad, and the ugly about living with lung cancer
YOU are the expert. Help the LUNGevity Foundation understand how lung cancer has impacted your life by participating in Project PEER. Project PEER is an international study, open to people living with lung cancer and family and friends who can complete online surveys in English on a smartphone, tablet or computer. Participation can help LUNGevity drive change in lung cancer research, treatment and care. LUNGevity is a leading lung cancer organisation focused on improving outcomes for people with lung cancer through research, education, initiatives, and support and engagement for patients, survivors and caregivers. Join Project PEER here.
Rare Disease Day with the Aspergillosis Trust
For Rare Disease Day the Aspergillosis Trust wanted to make people aware that many sufferers of Aspergillosis from around the world have problems getting a diagnosis and getting the antifungals that are needed to treat the condition. See the following video for more information: https://youtu.be/9ulGPgofCxo
Save the Date! 20 April 2023 Marks EUFOREA's 2nd Annual Global CRSwNP Awareness Day
EUFOREA is thrilled to announce the launch of its 2nd annual Chronic Rhinosinusitis with Nasal Polyps (CRSwNP) Awareness Day which will take place on 20 April 2023 in Brussels, Belgium. The aims of this campaign are: to raise awareness of CRSwNP and comorbidities (asthma, atopic dermatitis, and its impact on quality of life among physicians and policymakers), to encourage healthcare professionals at all levels to learn more about how they can improve outcomes for patients living with CRSwNP through improved diagnosis, treatment and referrals to specialist care, to educate patients on the symptoms of CRSwNP so that they can seek appropriate care in the management of their disease or to support loved ones suffering from CRSwNP and associated comorbidities including Asthma, Atopic Dermatitis (Eczema, and Allergy – respiratory or food allergy).
Second sarcoidosis congress organised by ACSI (Italy)
Friends Against Sarcoidosis Italy organised the Second National Congress on the Diagnosis and Treatment of Sarcoidosis. It will bring together specialists and scientists with expertise in sarcoidosis. Here is the webpage for more information and to view the programme (also in English): https://www.sarcoidosi.org/secondo-congresso-nazionale-2023
Together on Rare Disease Day
In spite of the war, we continue to live and fight. Rare patients have one more enemy — their disease. On World Rare Disease Day, we got support from a number of people, organisations and countries. The educational institutions of Lviv city organized a flash mob with colourful handprints. They recorded videos and took pictures to make posts in social networks. Children and adults joined to raise awareness in support of orphan patients in Ukraine and all over the world. In collaboration with NGO "Patients of Ukraine" we organised a webinar for family doctors "Rare diseases in the practice of family doctors" to raise awareness of rare diseases. We had several speakers: two doctors spoke about rare lung conditions, and a lawyer talked about regulations in Ukraine regarding rare diseases. In spite of the war, we all continue our activities. The doctors continue to save patients' lives. And the soldiers continue to defend all of us. We say thank you to every person who supports Ukraine from abroad and every Ukrainian who joined us to support rare patients and celebrate life on Rare Disease Day.
People with Cystic Fibrosis join World Rare Disease Day to demand equity in access to healthcare
The Spanish Cystic Fibrosis Federation (FEFQ) joined the Spanish Rare Diseases Federation (FEDER), the European Organisation for Rare Diseases (EURORDIS), the Ibero-American Rare Diseases Alliance (ALIBER) and the International Rare Diseases Network (RDI) on World Rare Disease Day to highlight the difficulties of equitable access to health, diagnosis and treatment. In this regard, the FEFQ calls for the improvement and creation of Reference Units, a historical demand of the cystic fibrosis community. It is essential to follow the "European Consensus on the treatment of CF", which states that the increase in life expectancy of people with cystic fibrosis is related to the creation of specialised and multidisciplinary CF Units. In addition, in CF it is essential to continue investing in research, as there is still 30% of the CF population in Spain that cannot benefit from any of the recently approved modulatory treatments. Several lines of research are currently underway to find an effective treatment for minority mutations, so greater agility in the commercialisation of future treatments is also needed to avoid unnecessary delays that could directly affect health status. Read more here.
Strokes against Cystic Fibrosis in Mallorca is back!
The Respiralia Foundation has confirmed the Respiralia 2023 event for June 30 and July 1 and 2, 2023. Find out all the news here!
GAAPP Academy: Volunteer Management
GAAPP has teamed up in March with Cheezuba to offer a capacity-building webinar to help small NGOs and Patient Advocacy Group manage volunteers in the post-COVID era with topics like Gen-Z volunteers, gamification, etc. This webinar is free for all non-profit representatives and staff and will have live interpretation in the most relevant languages. The live version will be at 17:00 CET on 16 March 2023. Register here: https://gaapp.org/gaapp-academy-2023-march/
#GAAPPAcademy
Live Webinar in Collaboration with SEAIC
On 27 February, Sevilla Respira participated in a live session where we talked about the role associations have in the setting of the World Day of NGOs.
Clinicians join forces for #OneVoiceILD
OneVoiceILD is a growing network of clinicians, professionals and people affected by and managing pulmonary fibrosis (PF), set up to ensure patients and carers have access to the best standard of care no matter where they live. Much has changed for the better of patients and their loved ones, including greater access to anti-fibrotic treatments, more shared care, so people don't have to travel to get the specialist support they need, the growth of a dedicated registry to better understand PF across the UK, and the development of Action for Pulmonary Fibrosis ensuring people have access to peer support online, by phone and face to face. However, more needs to be done to ensure clinicians can continue to provide equitable and safe care. #OneVoiceILD is committed to greater collaborative working bringing together policymakers, pharmaceutical companies, researchers, clinicians and people affected by pulmonary fibrosis to improve the lives of people affected.
School awareness session from the Helping Hands Foundation
The Helping Hands Foundation in Pakistan ran an awareness session on lung diseases: the different types, prevention, dos & don'ts with students at Al Jannat School at Gulshan e Shujaat Sher Shah Road Multan. Read more here.