Alpha-1 patients gathered in Ireland
The 5th Global Alpha-1 Research Conference and 8th Patient Congress happened in Dublin on 13–16 April. It is the largest international gathering of people with Alpha-1 antitrypsin deficiency, their families, leading researchers, healthcare professionals and industry in the world. Major developments on therapeutics are on the way!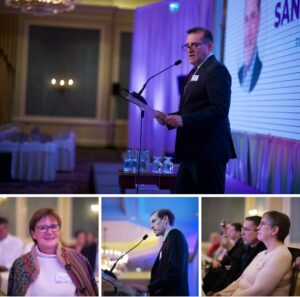 EUFOREA Celebrates 2nd Global CRSwNP Awareness Day!
On 20 April EUFOREA celebrated the launch of its 2nd annual Chronic Rhinosinusitis with Nasal Polyps (CRSwNP) Awareness Day in Brussels. Watch this emotional panel discussion between medical experts and patient advocates unfold as they share the impact of CRSwNP on their daily life and discuss strategies about what we can all do to improve outcomes for patients with CRSwNP around the globe! For more information, please visit the EUFOREA website or watch the full session on YouTube.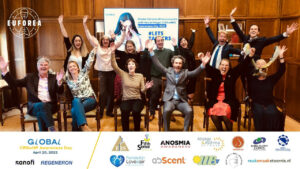 SarcoidosisUK creates e-learning course for GPs
Sarcoidosis is a complex and rare condition that can present with a wide range of debilitating symptoms and can affect any part of the body. Diagnosis can take a long time, causing significant distress to patients, and misdiagnosis is also common. The role of GPs in diagnosing sarcoidosis patients is vital. Early recognition of symptoms and referral to specialist sarcoidosis centres can prevent progression of symptoms and speed up the identification of extrapulmonary complications. It is therefore vital that GPs have access to accurate and up-to-date information on sarcoidosis. SarcoidosisUK has created an e-learning module in collaboration with the Royal College of GPs, which provides GPs with the knowledge to identify and manage patients with sarcoidosis. The module also addresses common misconceptions about sarcoidosis and provides information on investigations, referral pathways, and possible complications. It includes real-life case studies of typical and non-specific presentations of sarcoidosis to highlight the systemic nature of the condition.
Asthma Care Access: The voice of the uncared
For 2023 #WorldAsthmaDay, GAAPP expanded upon the previous campaign, Asthma Care Access: The Voice of the Uncared, which complements GINA´s official topic Asthma Care for all. GAAPP recorded 6 testimonials from patients, healthcare professionals, and a TV personality from Brazil, France, Gambia, India, and Peru, highlighting some of the most relevant challenges to accessing quality asthma care in their countries. These testimonials are in their native language with English subtitles. Watch the Reel Testimonials.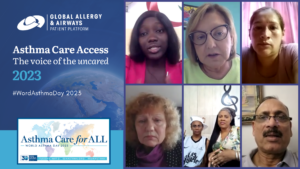 Lovexair joined the 7th National Patients Meeting: Keys to Health on European Patients' Rights Day
The 7th Encuentro Nacional de Pacientes: Keys to Health, organised by the Spanish Patients' Forum, is the largest and most important annual event bringing together patient associations in Spain. The event was held on European Patients' Rights Day, at the Gregorio Marañón Hospital in Madrid on 18 April. Shane Fitch, President of Lovexair Foundation, was invited to present the results of the HappyAir Pharmacies Program, aimed to provide preventive care and support to COPD patients.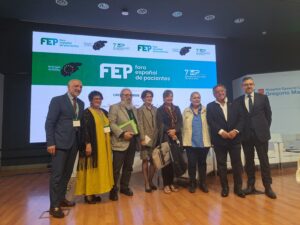 APEPOC participates in the assessment of transcutaneous capnography for people with COPD
This evaluation is coordinated by the Health Technology Assessment Agency (AETS) of the Carlos III Health Institute (ISCIII) at the request of the Ministry of Health, within the framework of the Spanish Network of Health Technology Assessment Agencies and National Health System Services (RedETS).
Transcutaneous capnography is an alternative to conventional methods as it can be performed on an outpatient basis in the primary care setting, is non-invasive, does not require analysis time and results are obtained immediately. The Ministry of Health aims to evaluate the applicability of transcutaneous capnography as a diagnostic test in primary care for the identification of COPD patients with hypercapnia, before or during treatment with oxygen therapy. Early diagnosis and treatment of COPD is very important to reduce the burden of disease and to improve the quality of life of patients.
ALK+ UK presented The Patient Experience at BTOG 23
The ALK Positive UK team was excited to attend the 21st British Thoracic Oncology Group (BTOG) Annual Conference in Belfast on 26–28 April. BTOG is always a highlight for us as it offers a fantastic opportunity to reconnect with old friends and make new ones. As we approach our 5th year in December, we are delighted to see the increasing awareness of our organisation and its mission to support, empower, and advocate for all ALK-positive patients across the UK.  Our Founder and Chair, Debra Montague, shared 'The Patient Experience'. Debra says, "It's crucial for clinicians to understand the broader implications of a lung cancer diagnosis, as it involves much more than dealing with the cancer itself. The financial burden, the real and terrifying 'scanxiety,' and the appointments (if you thought you were busy before, think again!) all add to the stress and uncertainty."  In addition to this speech, we also presented on the 'See through The Symptoms' campaign.  It was great to connect with other lung cancer charities and advocates at the conference, and we were particularly thrilled to attend the BTOG gala dinner at Titanic Belfast.