The Healthy Lungs for Life campaign went to Barcelona in September 2022 alongside the ERS Congress. The campaign is run by the European Respiratory Society (ERS) and ELF, and aims to raise awareness of the importance of lung health to the public.
The campaign held multiple activities across the city, with the main attraction being the free lung function testing (spirometry) event at Plaça de la Universitat on 3 September. The event was held in partnership with ISGlobal and the University of Barcelona. Medical professionals from ISGlobal volunteered their time to carry out spirometry tests to members of the public, explaining their results to them and talking about the key ways they can keep their lungs healthy.
During the day, 260 members of the public got a free lung function test and learnt about the campaign and its key messages: #BreatheCleanAir, #BeSmokeFree, #TakeTheActiveOption, #Vaccinate, and this year we launched the new theme #FightClimateChange. Participants took away QR code flyers to access resources available in Catalan, Spanish and English to learn more about these topics.
We were delighted to have been joined by Dr. Carmen Cabezas, Secretary of Public Health for the Government of Catalonia (pictured below) who spoke during the launch of the event. We were also joined by outgoing ERS President Prof. Marc Humbert and ERS Congress 2022 Chair Prof. Thierry Troosters.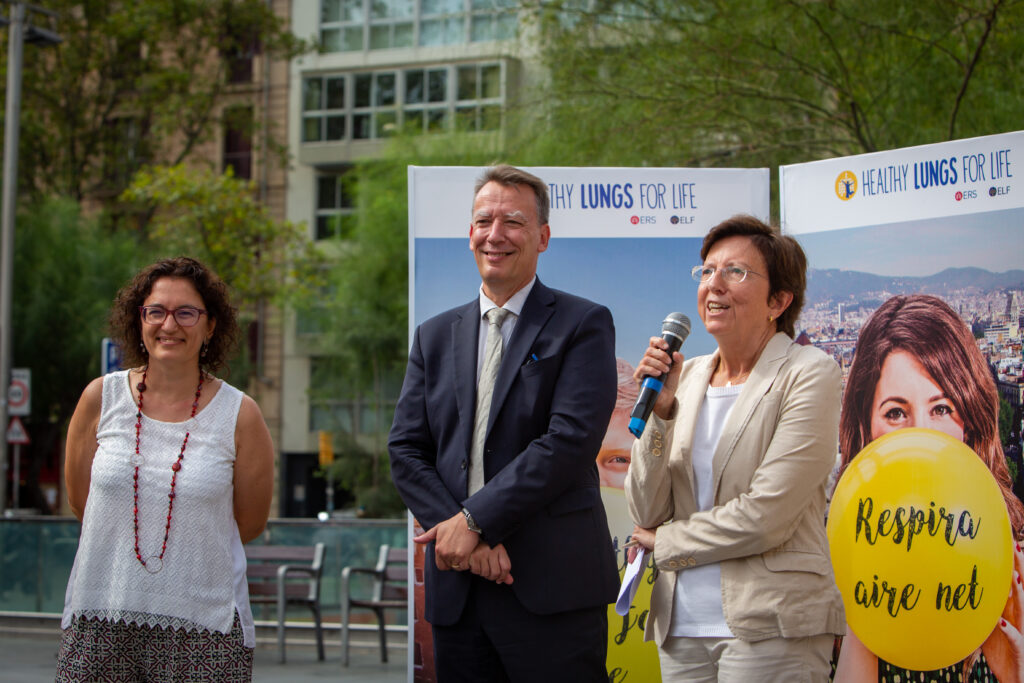 Image (left to right): Judith Garcia (ISGlobal), Prof. Marc Humbert (ERS President 2021-2022), Dr. Carmen Cabezas (Secretary of Health)
We also received a great welcome from the local press on the day. Some of the coverage can be found below.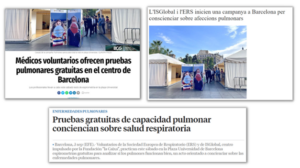 As part of the campaign, the Agustí Centelles Library hosted a collection of books about lung health. There was also an online collection of books, films and songs about lung health.
The campaign also offered the opportunity for members of the public to come and learn more about lung health and its importance at a public talk given by healthcare professionals in Catalan at CC Golferichs (Civic Centre) on 6 September.
It is important for us to be able to offer these types of events so that we can highlight the importance of good lung health, have meaningful conversations with people on how to achieve this, and highlight any local issues which could be a barrier for people to improving lung health.
To support our work and help us to continue to hold events like this, please consider signing up to make a monthly donation.